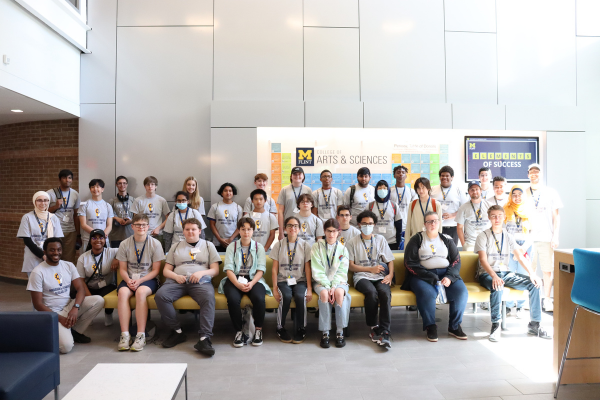 A summer program designed for the future
The College of Innovation and Technology (CIT) kicked off the summer on June 22-23 by welcoming students from more than 25 Mid-Michigan high schools for the Innovation & Technology Scholars program. This was the first summer program for CIT since the college officially opened for students in the fall of 2021.
The program was divided into two themed days, filled with activities ranging from building leadership skills to building wind turbines. With the hands-on approach that CIT takes in its curriculum, it was important to provide prospective college students with the same level of interaction with faculty and staff in summer program activities. The first day focused on students wishing to pursue studies and careers in the field of cybersecurity and information technology. After starting the morning with icebreakers and leadership activities, the students ventured into a lab activity with Thiago Ferreira, assistant professor of information technology and computer science, where they would assemble and code an Arduino device. capable of turning LED lights and buzzers on and off.
"It was a fantastic experience to show off what we do here at CIT. Students saw that we are committed to giving every student access to hands-on experiences and hands-on learning opportunities," Ferreira said.
Another group would go to the computer lab with Halil Bisgin, associate professor of computer science, and explore the world behind the internet and connected systems from a cybersecurity perspective. Students had to think like a hacker and try to figure out where online threats could potentially occur and then figure out how to stop them.
In the afternoon, the whole group boarded a bus for Molex Connected Vehicle Solutions in Grand Blanc, MI, to get an inside look at what goes into certain parts of the vehicle's design by some expert engineers. Staff. The group also examined one of the few anechoic chambers in the United States that are large enough and capable of being used in vehicle component testing.
The second day of the program focused on digital manufacturing technology and sustainability and energy technology. In a workshop, students were able to experiment with sound and vibration with Linda Zhu, assistant professor of engineering, then explored the world of 3D printing with Engineering Lab Tech Greg Keller.
"I [was] so happy to see that there are a lot of high school students interested in digital fabrication, and I was very impressed with their critical thinking and problem-solving skills during the lab activities. I see future engineers in this field!" Zhu said.
The other group headed to the classroom with Associate Physics Professor James Alsup to build wind turbines and measure their power through friendly competition.
"I was thrilled to see several girls in our camp this year. We hope this means there will be many more young women studying technology with CIT in the future," said Shirl Donaldson, Assistant Professor of digital manufacturing technology.
The second day of camp ended with a field trip to Lear Corporation where all students had the opportunity to take a full tour of their Flint facility to take photos and ask questions about their production processes. Although it was two full days of workshops, lab time and field trips, everyone seemed to have had a great time and enjoyed the different parts of camp this year.
Chris Pearson, Dean of the College of Innovation & Technology, said, "Offering the Innovation & Technology Scholars program was both exciting for CIT and an important step in its development. One of the main aims of the program is to provide participants with the opportunity to envision themselves engaged with technology – enabling them to imagine the possibilities. Being able to present CIT in an engaging and fun environment creates future pathways. I am very grateful for the efforts of faculty, staff and our industry partners who made this event such a great event. "
CIT looks forward to the growth that is occurring in the areas of technology and is already thinking about what next year's camp will look like.