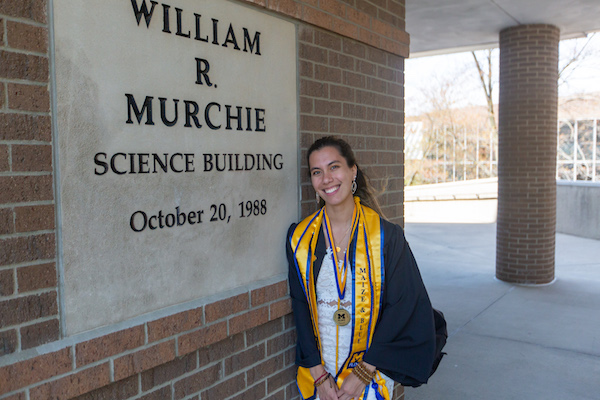 Alumni Spotlight: Nicole-Kristine Smith | University of Michigan-Flint
Nicole-Kristine Smith, a 2022 biology graduate, is heading to the Yale School of Public Health to pursue a Master of Public Health in Environmental Health Sciences. At UM-Flint, Nicole discovered a passion for public health and climate change, making this next step an opportunity to change the world.
Nicole's experience with UM-Flint began while she was still in high school, attending the Grand Blanc Early College program in partnership with the university. Suddenly, Nicole had almost seven years to immerse herself in the Honors Programresearch opportunities, clubs, and volunteerism at UM-Flint.
One of Nicole's first research experiences was a program with the Michigan Undergraduate Health Sciences Research Academya 10-week residential program in Ann Arbor.
"The research I pursued and pushed through the honors program has shaped who I am today," says Nicole. "MHSURA exposed me to so many diverse people, taught me how to prepare for medical school and what I need to do to prepare for the MCAT."
Nicole made sure to pass on her wisdom to her fellow UM-Flint students. She founded the MCAT Prep Club as a way for like-minded students to study and prepare together.
"I wanted to share what I had learned in the MHSURA program with others and also just have a study club," says Nicole. "We studied for a year before the exam, and I have never met a more dedicated group of students."
The experience inspired Nicole to do more research. She landed a research position with Dr. Benjamin Blonder at Rocky Mountain Biological Laboratory. There, Nicole was called to the environment and climate change.
"At Rocky Mountain Biological Laboratory, we looked at the sudden decline of aspen. This is basically where aspen trees around the world are dying off at an alarming rate due to climate change, and we were looking to see if aspen of a certain ploidy, or genetics, was more resistant to that," says Nicole. "At this point, I realized I really liked environmental science. I really wanted to continue my studies on the environment and climate change."
Nicole spent much of her free time at UM-Flint volunteering, which shaped her passion for health. She volunteered at the Hurley Hospital Surgical Lounge, taught math with the Standard Children's Publication, volunteered for blood drives at the Red Cross and helped with COVID-19 vaccination clinics. hosted by the Genesee County Health Department.
"The most impactful volunteer experience was the COVID vaccination sites. It just reaffirmed my desire to get into public health," says Nicole.
Outside of volunteer and education clubs, Nicole spent much of her free time as a member of the Michigan Running Club (MRun) on the Ann Arbor campus.
"I really wanted to compete in college track and field and found a way to do it," says Nicole. "My teammates are still my closest and best friends."
Nicole considered transferring to another college after completing her Early College program, but ultimately decided to stay at UM-Flint, a decision she does not regret.
"I just couldn't leave. I loved the small class sizes and the support from the professors. Flint supported me both by welcoming students and staff, and also financially," says Nicole. "I decided to go with my instinct for the best education."
As a recent alum and longtime student, Nicole offers advice: your teachers are your cheerleaders.
"Your teachers want you to succeed and will do everything in their power to make sure you do. If you need help, just ask, it's not supposed to be scary," says Nicole. "Teachers are your friends and you invest in yourself by investing in course materials."
Nicole plans to pursue a career in research and dreams of working for the CDC, NIH, or environmental nonprofits.