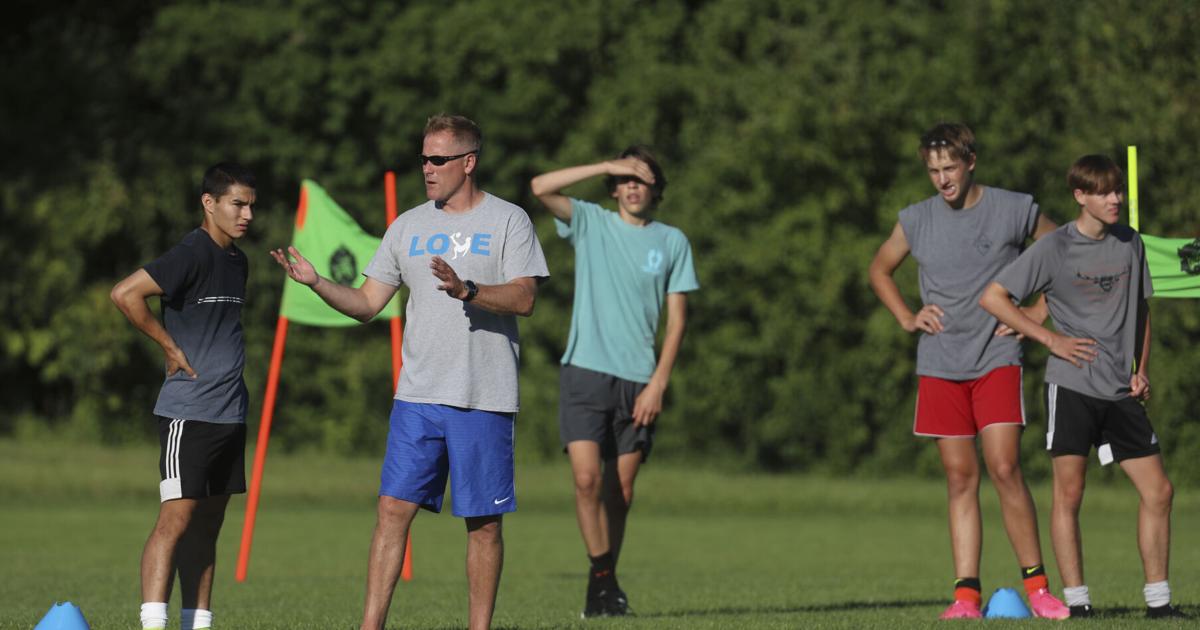 Elks Rapids hungry for state title | Sports
ELK RAPIDS — The Elk Rapids men's soccer team has gone where other schools dream of being. But lately they have been short of a state title.
The Elks are eyeing a new season as they kick off their season Friday on the road against East Grand Rapids. Last season, the Elks lost in the Division 3 semi-final to Grand Rapids South Christian – who went on to an unbeaten 2021 season.
Head coach Nate Plum has seniors who have years of playoff experience, as well as the addition of 11 new freshmen. The goal remains the same and Plum has spoken about what he wants to accomplish: win a state title. The Elks have continued to win districts, but it's the state championship they want the most.
Last season, the Elks finished No. 4 in the state after going 19-5-3 overall — as well as sweeping conference opponents.
Some players from last season include midfielder Spencer Ball, striker Charlie Parish, midfielder Jared Barcenas, fullbacks Fisher Bogard and Sean Burch, and goalkeeper Ani Lugin are all entering their final year at Elks.
"I just had a second family that I know I can rely on throughout the fall season. I'm spending more time with my teammates than at home," Parish said. "You kind of build a bond similar to family, and it stays with you throughout school."
Plum said the seniors were responding well during pre-season.
"When you have these conversations with them, they take it, and they're very serious, and they try to lead by example," he said.
Ball has been a force for the Elks over the past three seasons. Last season, the fearless forward tallied 18 goals and 18 assists while earning multiple accolades – First Team All-State and All-Lake Michigan Conference.
"Spencer is a four-year-old college starter, came on the scene with a tear, and is probably Northern Michigan's fastest kid on the football field," Plum said. "Spencer came on straight away as a rookie, and I think he scored 10 goals. That's exactly the kind of kid Spencer is, he's just an animal, and he's someone against whom nobody wants to see the alignment.
The Barcenas name is a fixture in the history of Elks Rapids. His brother was a force to be reckoned with during his time with the team. But for Barcenas, watching his brother is something he remembers fondly, and he wants to realize some of the things he was able to do.
"He's like a legacy player. His older brother played here and had great playing days," Plum said. "Jared is a four-year-old college player, who tried his hand at it in freshman year. Jared is one of those guys who loves the game, and it shows.
Having seniors who have been in the team since their first season is an advantage for the Elks. Plum talks about the consistency the team continues to bring each year, despite some tough challenges in their conference.
Even though the Elks went undefeated in the Lake Michigan Conference, nothing is easy no matter what the records look like. Plum has been with the Elks for about 15 seasons, and when asked what held him back, he said the bond with the boys and watching something grow over time never gets old.
"I'll be honest, I think I get along better and I get along better with boys than I do with adults," Plum said with a laugh. "It's about watching something come together. You never know where you're going to start.
"Some of my great friendships came from football and it still does and I think that's why I like it."
With a new season comes new shoes to fill. Last season, Elks Rapids graduated from a "dream team," Plum said. Part of that team included one of Michigan's top goaltenders, Jack Spencer.
"We have two guys trying for this spot and wanting this spot," Plum said. "They know they have big shoes to fill, so they did a terrific job last night to start that process."
Another challenge this season for the Elks is using junior varsity players as, for the first time ever, Elks Rapids will be able to use JV players in varsity games. The only thing Plum mentioned is that the new players are playing Elks Rapids style of football.
Some seniors have been used to playing a certain way for so long that it can be difficult to bring in new players to bring them up to speed. Plum was thrilled with what he saw in Monday's scrimmage against Traverse City Central.
Plum said that with this new system, junior college is now like a reserve team, waiting to be called up to play. The Elks have been successful in flushing out junior college players and turning them into solid college players.
For the seniors, being part of Elks Rapids was nothing but a great time and a bonding experience they will cherish forever. As they begin their season on Friday, nothing else matters but winning a state championship.