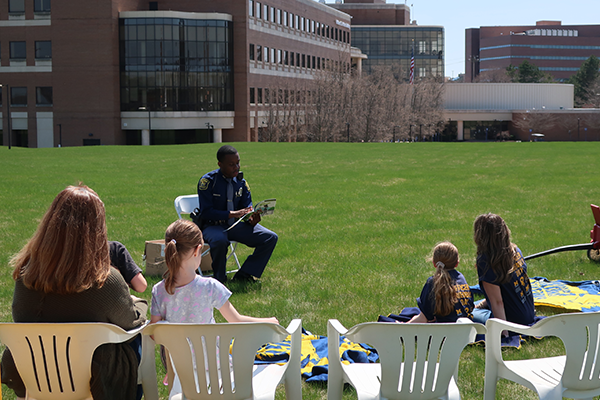 'Friendly Officers Day' sparks conversation and fun during Autism Acceptance Month
On April 23, the Public Safety Department and Department of Education at the University of Michigan-Flint collaborated to organize "Friendly Officers Day," a family event that celebrated Autism Acceptance Month. People of all ages on the spectrum and their families could interact with law enforcement officers while enjoying fun activities.
The event had multiple benefits: people with autism could learn about law enforcement, and law enforcement officers could learn about people on the spectrum.
Officers from UM-Flint DPS, Michigan State Police, Flint City Police Department, Great White Police Department, Mott Community College Public Safety Department, Easterseals and AmeriCorps were all there to engage with these people.
According to Ray Hall, director of public safety at UM-Flint, this event is a step for police officers to become allies with those on the spectrum. It is also a continuation of the professional training sessions in ASD of associate professors of education Christine Kenney and Melissa Sreckovic with law enforcement officers.
"As officers, we have already received knowledge about autism. But with Officer Friendly Day, we could meet people who identify themselves or have been identified by their families as autistic," Hall said. . "It speaks to the role of law enforcement in a community. In order to provide the quality service that community members deserve, you need to understand the individual needs in communities. That's one aspect of doing that."
In addition to candid conversations about safety and disclosure, families could also participate in fun activities. Officers read children's stories aloud to groups. Those on the spectrum might get a glimpse inside an emergency vehicle. UM-Flint student volunteers played blocks, blew bubbles, organized car races with matchboxes and led dance parties with attendees.
Anna Thériault, an elementary education major and volunteer, says volunteering at the event will broaden her perspective once she starts teaching.
"This event allowed me to work with and interact with different types of students," Thériault said. "I liked seeing everyone doing activities and just being happy."
The event also prioritized the needs of community members in a non-judgmental atmosphere. The organizers responded to individual needs and prepared the participants before the event. Kenney and Sreckovic filmed an introductory video sent to families to put attendees more at ease.
The event was intentionally designed for people on the spectrum, even down to the bags handed out to attendees.
"The event was both fun and informative," Sreckovic said. "In the bags that everyone received, there is a social story, which is often how we teach autistic people about certain situations. Everyone who came to the event also received a bag with story cards. disclosure that someone on the spectrum might take with them."
In a comment on Facebook, attendee Angela Wang, who has a 7-year-old son with autism, said her child's impression of law enforcement changed completely after attending the event.
"Today my son talked to a few officers and said to me, 'Officers are good. Not scary,'" Wang said.
Organizers hope the event will spur other efforts in the state and country.
See more photos from the event below: