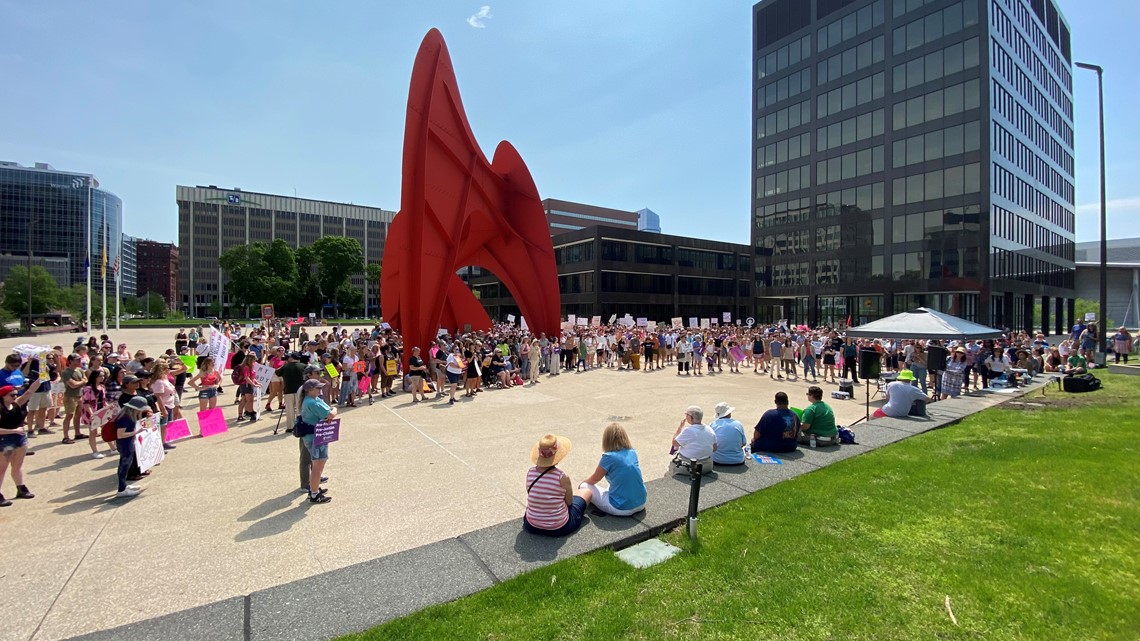 Grand Rapids, Muskegon Abortion Rights Activists
More than 400 cities across the United States hosted pro-choice rallies on Saturday.
GRAND RAPIDS, Mich. — Hundreds of thousands of people rallied across the country on Saturday for the "Bans off our Bodies" movement supporting women's right to choose and reproductive rights. Two of the more than 400 cities that hosted rallies were Grand Rapids and Muskegon.
At the lakeside, around 100 pro-choice supporters gathered in Hackley Square to hear speakers, sing and march to the Farmers Market to spread their message. Several generations made up the crowd of mostly women.
"We are beyond bothered. We are really concerned about this, that it will harm women," said former state legislator Mary Valentine. "It's women's safety that's being taken away. Women have had abortions since the dawn of time, and they will continue. Criminalizing or denying access isn't going to stop them."
No counter-protesters showed up in Muskegon, but the same cannot be said for Grand Rapids. Hundreds of pro-choice supporters gathered outside City Hall, and across Calder Plaza sat a group of less than a dozen pro-life protesters.
RELATED: Examining the Potential Long-Term Impacts of Roe v Wade's Overthrow
Both events featured speakers from the community sharing their experiences as women fearing the repeal of Roe V Wade, as well as elected officials and election candidates who share the pro-choice view.
"It engages and energizes people and people pay attention to it and we're going to have a lot of new voters coming to the booth in November," Attorney General Dana Nessel said. She said she would not enforce any law that "endangers women's lives," which includes a 1931 Michigan law that would trigger if Roe was overturned, making abortion illegal in the state. Nessel is representing Governor Whitmer and Planned Parenthood in lawsuits to overturn this law.
"We filed a motion and we filed briefs and both Governor Whitmer's lawsuit and the Planned Parenthood lawsuit," said Anna Visser, Director of Communications and Education with Right to Life Michigan. "We hope the justice system will see where we came from and see that these lawsuits are not warranted and should be dismissed."
Pro-life and pro-choice supporters said they were fighting for bodily autonomy. Protesters at rallies on Saturday said a woman should be able to choose for herself when it comes to abortion, birth control and reproductive health.
Right to Life Michigan believes that life begins at feralization and the unborn child deserves rights from that point on. Visser said they don't believe in any exceptions to the abortion ban unless the mother's life is in danger. They do not support abortion in cases of rape or incest.
►Make it easier to update with more stories like this. Download the 13 ON YOUR SIDE app now.
Do you have a topical tip? Email [email protected], visit our Facebook or Twitter page. Subscribe to our YouTube channel.