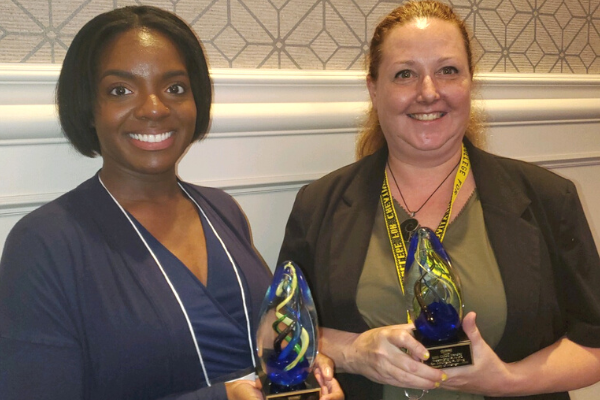 UM-Flint Faculty, Staff Recognized for Uplifting Women in Higher Education
Two members of the University of Michigan-Flint community have been recognized for their work supporting women in higher education across the state.
Michelle Silva, Lecturer IV in communication studiesand Sade' Wilson, Quality Assurance Coordinator with the Educator Readiness Centerreceived the Chiara Hensley Award for Outstanding Institutional Representative of the Michigan American Council on Education (MI-ACE). The organization strives to create an open and equitable higher education environment in Michigan by providing networking, leadership, and professional development opportunities for women working in the academy.
Silva and Wilson, along with the UM-Flint MI-ACE Steering Committee, hosted the 2021 Women of Color Virtual Collaborative Luncheon. Held at the height of the pandemic, this event provided an opportunity to explore the challenges facing women of color in higher education and to develop strategies to advocate for systems that value diversity. A conversation about authenticity between UM-Flint Provost Sonja Feist-Price and Mott Community College President Beverly Walker-Griffea was the main session.
The pair emphasize the power of dialogue and common goals to make such events a reality.
"Even though Michelle and I are two races, two different cultural backgrounds, two religious backgrounds from two different generations, we found a way to be friends while accomplishing all of these goals at the same time," Wilson explains.
While lunch brought together more than 250 faculty, staff and administrators, additional programs offer resources and support for students and community members. The Boss Up: Women in Leadership conference brought together women entrepreneurs, law enforcement, lawyers, IT professionals and more to help young women find and prepare for their future.
"It's so powerful when people share their stories because you start realizing, 'I'm not alone. I can do this too. She made mistakes. I made mistakes. not stopped.' It was powerful to offer that encouragement and support," Silva said.
Following this connecting theme, Silva and Wilson are quick to note that events like these would not be possible without the support of the UM-Flint MI-ACE Steering Committee, a group of women from more than 10 units across campus who share the same vision of making higher education a more open and equitable space for women on Michigan campuses. This is often not easy work, and Wilson explains that accepting non-compliance is a prerequisite.
"One thing we're very intentional about is finding ways to have tough conversations, finding ways to build sisterhood, and helping leaders, including male leaders, support women on campus." , she says.
Those interested in getting involved with MI-ACE can contact Silva ([email protected]) or Wilson ([email protected]) for more information.